Setting Up A Webinar With No Landing Page And Without Requiring Attendees To Register First
If you are using an external landing page and you don't want to set one up or request registration for the webinars you host on Expertise.tv, you can do so by simply not linking a landing page to it. Instead, you would simply share the link of your live webinar.
If you have already linked your webinar with a landing page, go to webinars > hover over Webinar Actions and select Edit Webinar > Select the Landing pages option then click on the Delete button on the right of the landing page.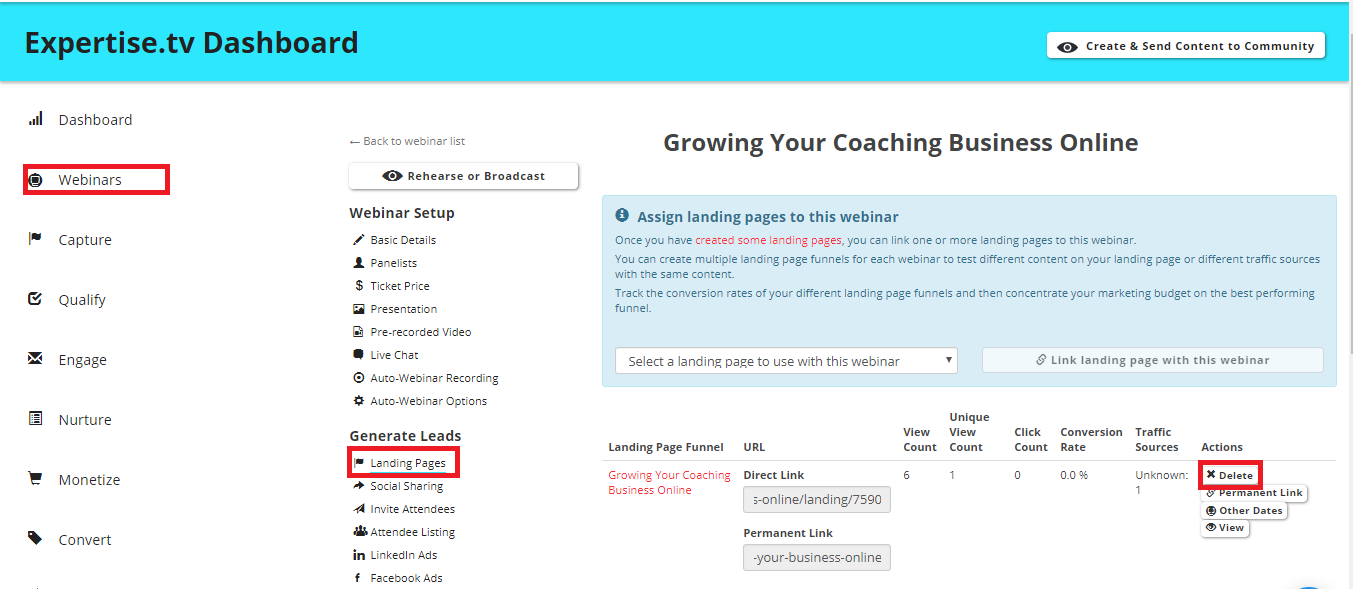 To retrieve your webinar URL, hover over Your Communities and select the desired community. Go to Webinars and click Edit Webinar on the one you want to share. On the webinar setup page, click Rehearse or Broadcast.
You will now be taken to the live webinar page - simply copy the page URL and share it with your attendees. The webinar URL is the same both for you and your attendees.
Attendees who join from an external landing page, who did not register through Expertise.tv will be able to view your broadcast, as well as any services/packages you might be selling during the webinar.
If they will want to purchase one of your services or engage in the chat, then they will be asked to log in or create an account. The login/registration process is quick and easy and they can also use their social profiles.
Their contact details are available to download from your community area.
Need help with setting up webinars without linking landing pages? Book a call with the Webinar Launch Team