How To Run Polls
Expertise.tv allows you to run polls during your webinars and see your attendees' answers privately. The feature is free and available on all Expertise.tv accounts.
This is more than polling. It is the key to conversions - a way to help you identify the pain-points of your attendees and address them directly. This is paramount if you are looking to increase sales conversions, as unless your potential client sees that you are able to solve their highest priority pain-points, they are not going to choose you as their coach. If you address their highest priority, they will take action immediately as it is the most important thing for them right now.
Your Poll questions are displayed both before and during your webinar:
when attendees sign up or log in;
as a part of the reminder system - your attendees receive an email reminding them about the poll, 24h before the event.
during your live broadcast.
---
To use the polling feature, simply go to your Community Dashboard and select Qualify.
Creating a New Poll
To create a new poll, click the Create new poll or Survey button, then fill in the poll fields. The Preview area on the right will show you how your poll will look like for your audience.
Decide whether you would like to allow multiple answers - your attendees will be able to check more than one answer option.
Select whether you would like to allow free text answers - your attendees may enter their own text.
Enter your answer options. Click New Answer to insert a new answer option.
Click Save poll when ready.
Sending Polls to your Audience
Your Polls can easily be sent to your audience, right from within your webinar page.
Simply click Send Poll to proceed.
Next, choose the poll you'd like to send then click Send now.
Your audience will see a pop up that shows your poll and they can easily answer it right away.
As your poll answers are coming in, you will see them on your webinar page, right next to the Chat, Questions and Audience areas, in a dedicated Polls section.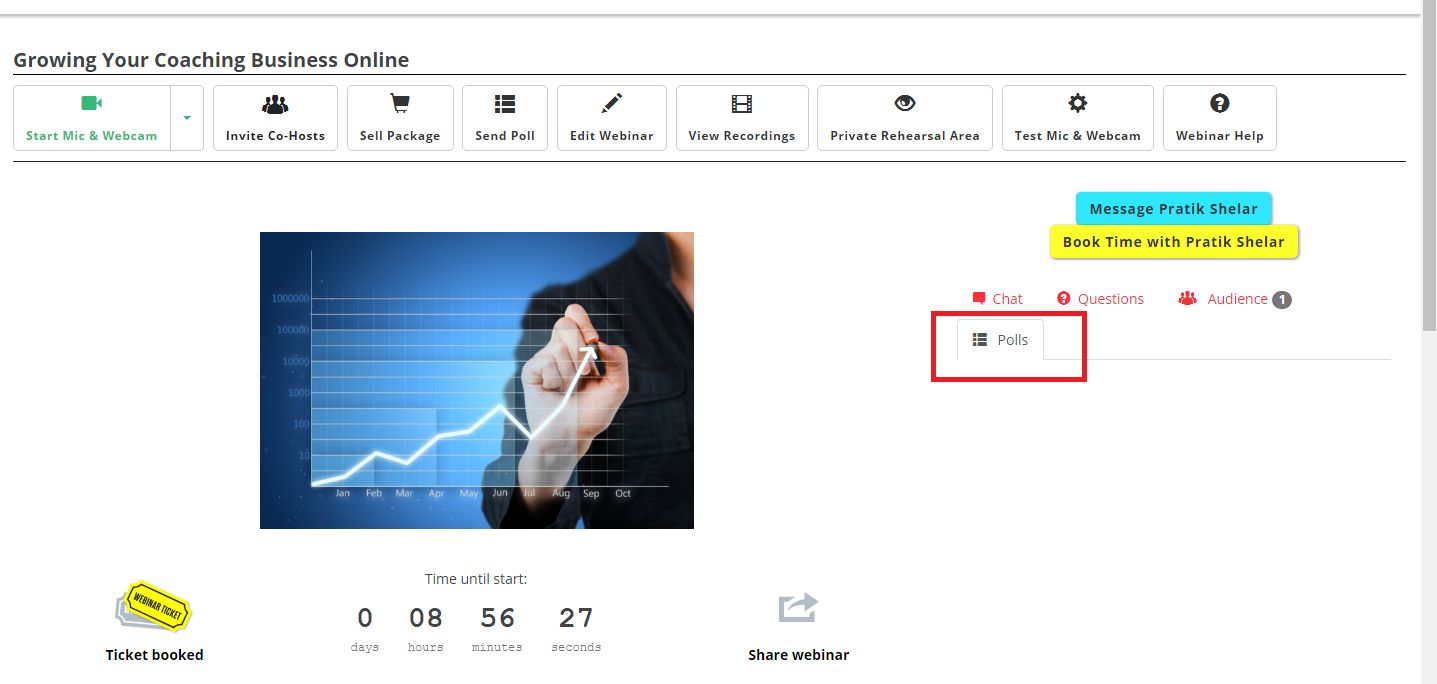 Here is where you can immediately see your audience replies and address them right away, during the webinar; or afterwards.
Your audience answers will turn into tags, which you can then use to filter through your Community Members and send specific information to the right ones. You can select your desired poll answer and Expertise.tv will match it with the people who gave it, allowing you to send a bulk email with specific community posts that address their individual coaching needs. This will facilitate their decision to work with you, since it shows them that you are the person who can help them tackle their current challenges. Learn more about working with your Expertise.tv Community!
Need help with using Polls? Book a call with the Webinar Launch Team